In this site you will find details of courses, links to other related organisations, and theatre in education. We will also update our Newsletter regularly, which you can of course contribute to by contacting us. Part time workshops for trainee TIE workers and Dramatherapists available around the site, please contact us for more information.
You might want to find out how Dramatherapy has developed, and where Dramatherapy archives can be found or where you can get Dramatherapy Training on a variety of courses, all over the UK.
The 2015 International Transform With Action Tour to Asia. This is a limited tour of South East Asia and will include the following countries: Japan, Malaysia, Singapore, China and Taiwan.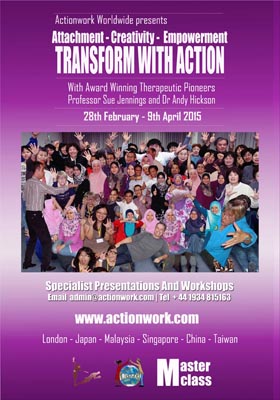 There is a lot of information about Dramatherapy available on the internet, that can be found on a variety of Search Engines.
The information available here is not exhaustive, but it is a great starting point. If you have a good dramatherapy site that you would like to tell us about, then please do write to us, and we will endeavour to post the information here.
We will be putting together a Newsletter that you may contribute to. This newsletter will also have regular items from Prof Sue Jennings and Dr Andy Hickson.
The original TIE show 'Silent Scream', tackling bullying in schools, is available for booking now. A powerful piece of work and a must for all schools. Book the show here.
We can also supply you with creative web site design. See our range of therapy related domain names currently available for purchase by contacting us here: Domain Names For Sale
Thank you for coming here, we hope you enjoy your visit.
---